Vung Tau, Ha Long, Dong Thap or Ca Mau are beautiful in video clips by foreign tourists.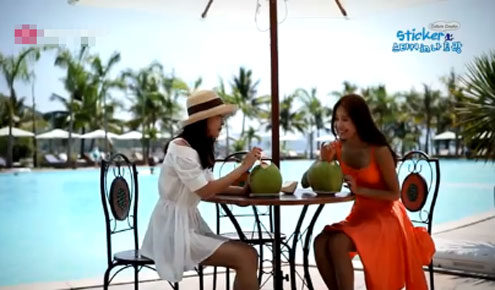 Nha Trang in a clip shot by a Korean travel firm.
"I Love Vung Tau" is the particularly impression about Vung Tau by David Morgan. For this tourist, Vung Tau is "the heaven that has stolen my heart," which has a beautiful coastline, the people with happy smiles, and romantic evenings for couples to walk on the beach.
With the gentle background music, the images of Vung Tau city, the sea and the smiles of the locals show up as impression to hold the author back. The lyrics are English sentences that are simple and easy to remember, with the chorus: "Vung Tau is a special place. I love Vung Tau."
The clip is supported by many foreigners and Vietnamese.
Besides "I Love Vung Taum" David Morgan also devoted his love for Ha Long Bay in the clip "Dawn in Halong Bay." For this visitor, the new day in this world natural wonder began with birds singing and beautiful sunrise. The clip as a tour guide film to Ha Long Bay.
"King Chef" Martin Yan and Miss Vietnam's runner-up Hoang My made a trans-Vietnam journey to explore the beauty of Vietnam through the scenery, cuisine and culture of various regions. At each place they visited, Yan enjoyed the food and the life there.
In the over 1-minute clip, the majestic natural beauty and famous tourist sites made the famous chef admire.
The clip "Dong Thap - having such a place" helps viewers discover lotus ponds, yellow-ripe rice fields, orchards, historical places full of legends, kindly people and economic potentials.
Previously, the beauty of Viet Nam was also advertised on the famous TV channels such as CNN, NBC and BBC. (Watch the clip)
Blue sea, white sand and the famous sights in Nha Trang appears amazingly in an advertising clip of a Korean travel film. The clip even makes Vietnamese amazed at the beauty of this land.
In nearly three minutes, Nha Trang appears with white sand coast and green sea. Two Korean girls cycle to explore the city's tourist sites such as Long Son Pagoda, Ponagar tower, Hon Tam Island. In each place, the two travelers enjoy exploring the lives of local people, good food, and play sports at luxury resorts.
The beauty of Nha Trang from the perspective of foreigners is both familiar and strange. The clip has been uploaded to the Internet for a short time but it attracted thousands of views and comments.
Many expressed their admiration to the beauty of Nha Trang and compared it as Hawaii.
I love Vung Tau